Will you or your staff be working outdoors this spring and summer?
Join us for an informative workshop to learn skills needed to identify the most common invasive plants and noxious weeds, including those which pose a risk to your health and safety.
Created with input from experts with years of experience working in the field identifying plants, this 2.5 hour webinar will discuss plants that pose the greatest risk to human and animal health, and threaten ecosystems and biodiversity. It will include a basic introduction to plant anatomy and how to apply these skills to identify invasive plants, as well as noxious weed that you may encounter as you work in the field this spring and summer.
This workshop will be delivered via our interactive virtual learning platform and will include opportunities to network with others in the program. Experts will be on hand to answer your questions.
Sign up for the time that fits your schedule!
· May 5th, 2022 from 9:00 am – 11:30 am
· May 12th, 2022 from 6:00 pm – 8:30 pm
· May 19th, 2022 from 9:00 am – 11:30 am
· May 26th, 2022 from 9:00 am – 11:30 am (New time!)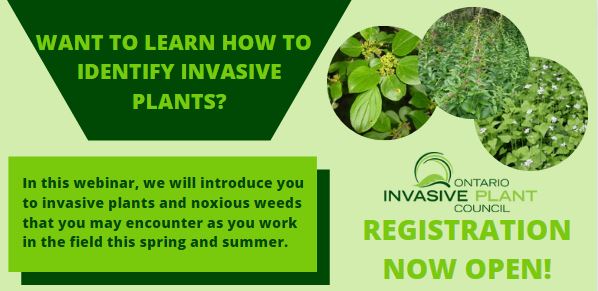 Question? Please direct inquiries to Emily Mitchell at Intern@OnInvasives.ca
Donation: Your donations help support the availability of our resources and allow us to continue our work in Ontario on responding to the threat of invasive plant species.
Members: Please use the discount code MEMBER at checkout to receive $10 of your registration Not a member? Purchase an OIPC Membership as an add-on for your registration to qualify for the discount.
Indigenous Peoples: Please use the code INDIGENOUSVOICES at checkout to receive a FREE ticket to this event .
Groups of 10 or more over the four sessions: Please contact Emily Mitchell to request a special discount code for your group or organization. Send your request via email to Intern@OnInvasives.ca
Private Workshop: Would you like to create a customized education workshop for your team? Would you like to include training for a specific role or region? We could create and host a customized program for you! Please contact us via email to Intern@OnInvasives.ca to learn more.