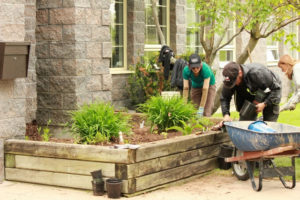 The Ontario Invasive Plant Council (OIPC) is an incorporated, non-profit, multi-agency organization founded in April 2007 by a group of individuals and organizational representatives who saw the need for a coordinated provincial response to the growing threat of invasive plants.
Mandate
The OIPC provides leadership, expertise and a forum to engage and empower Ontarians to take action on invasive plant issues.
How We Operate
We operate through a Board of Directors. We also complete a number of our projects through our committees.
Ontario Invasive Plant Council By-Laws
History
Since its inception, the OIPC has created a network of over 600 people to receive and share information on invasive plants, has held eight annual general meetings/invasive plant symposiums and has developed six committees in order to facilitate collaborative provincial action. These committees work on increasing awareness across the province, reviewing legislation, identifying gaps in order to make change and maintaining a user-friendly forum to increase communication between those working in the field of invasive plant management, control and outreach.
Support us today by becoming a member, or making a donation to help Ontarians take action on invasive plant issues.