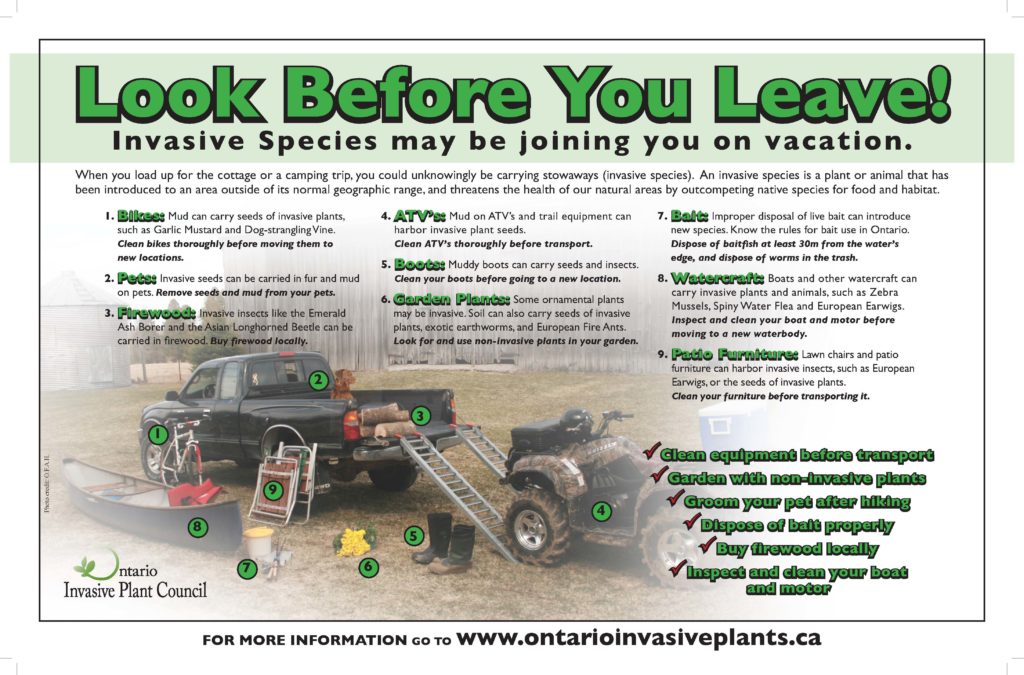 In 2012, the Communications Committee developed the Look Before You Leave campaign, to inform outdoor enthusiasts about the spread of invasive plants. The original campaign included:
A visual poster which outlines key pathways of invasive species on our equipment and gear, how to identify them, where they can be found and how to remove them to limit their spread. These posters were provided to partners and stakeholder in hard copy and electronic format for posting at various Provincial Parks and Conservation Areas across Ontario,
Developed a series of radio public service announcements which is aired throughout the summer months,
Held events at various locations in Ontario to target key audiences and inform them of the campaign,
Held media events which included the Weather Network and CHEX television.
May 24 Cartoon Look Before You Leave Campaign
In addition to the original campaign, a May 24 cartoon campaign was created in 2013 to increase online interaction and reach audiences through social media. These cartoons are free to download and use.
Look Before You Leave Expansion 2014
In 2014, we expanded the campaign even further to include four new posters, specifically targeting campers. These posters are free to download and use.