Grow Me Instead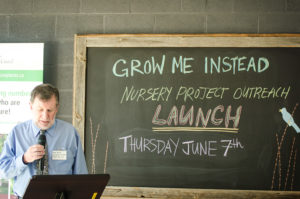 In 2011, the HOC worked closely with the horticulture and landscape industry to develop a provincial Grow Me Instead campaign.
The Grow Me Instead guides identify invasive garden plants and provides suitable native or non-native, non-invasive alternatives.
Grow Me instead Nursery Recognition Program
The Grow Me Instead Nursery Recognition Program recognizes nurseries that carry and promote the sale of the non-invasive and native garden plants featured in the Grow Me Instead guide. These nurseries also distribute copies of the Guide.
If you own or work for a nursery and would like information on this program, please contact us.
Participating Nurseries
Alcock Nurseries, 367 Dundee Crescent, RR#1, Campbellcroft, Ontario, L0A 1B0
Arbor Garden Centre and Nursery, 6556 Trafalgar Road, Hornby, Ontario
Baker Forestry Services, 5001 9th Line, Georgetown, Ontario, L7G 4S8
Baltimore Valley Garden Centre, 5599 County Road 45, Cobourg, Ontario
Bellavance Nursery and Landscaping, 1521 Essex County Road 22, Belle River, Ontario, N0R 1A0
Black Forest Garden Centre, 15445 Keele St. N, King, Ontario, L7B 1A8
Blue Star Nursery, 5056 Malden Road, Windsor, Ontario, N9E 3T9
Blue Willow Garden and Landscape Design Centre, 23834 Highway 48, Baldwin, Ontario
Burley's Garden and Suite, 2604 Television Road, Peterborough, Ontario, K9L 0E1
Canadian Tire – Cobourg, 1125 Elgin Street West, Cobourg, Ontario, K9A 5T9
Canadian Tire – Lindsay, 377 Kent Street West, Lindsay, Ontario
Chalk Lake Greenhouses, 2700 Lakeridge Road, Uxbridge, Ontario
Cindy's Garden, 585 Seacliffe Drive, Kingsville, Ontario, N9Y 2K6
Crooked Creek Garden Centre, 4480 Concession Road 4, Newtonville, Ontario, L0A 1J0
Earthgen International Inc, 85766 Canborough Road, Dunnville, Ontario, N1A 2W1
Evergreen Garden Market, Evergreen Brickworks, 550 Bayview Ave, Toronto, Ontario, M4W 3X8 (see photos)
Ferguson Forest Centre, 275 County Road 44, Kemptville, Ontario, K0G 1J0
Flora Gardens, 2465 Highway 3, Oldsastle, Ontario, N0R 1L0
ForForaz 936587 Airport Road, Mulmur, Ontario, L9V 0L5
Glen Echo Nurseries Inc. 15070 Airport Road, Caledon, Ontario, L7C 2W7
Horlings Garden Centre, 3056 Lakefield Road, Selwyn, Ontario, K9J 6X5
H. Richardson Farms, 4825 Regional Road 9 East, Kendal, Ontario, L0A 1E0
Humber Arboretum, 205 Humber College Blvd, Toronto, Ontario, M9W 5L7
In Our Nature, 431252 19th Line East Garafraxa, ON
Johnston's Greenhouse and Garden Centre, 871 Crawford Drive, Peterborough, Ontario, K9J 3X1
Lemoine Point Conservation Area, 1440 Coverdale Road, Kingston, Ontario
Maidstone Tree Farm, 7010 Highway 3, Maidstone, Ontario, N0R 1K0
Mason House Gardens, 3520 Durham Road RR #1 (Brock Road), Uxbridge, Ontario, L9P 1R4
Native Plants in Claremont, 4965 Westney Road, Pickering, Ontario, L1Y 1A2 (see photo)
Native Plants Nurseries, 12965 Regional Road 39, Zephyr, Ontario
Natural Themes, 219 Maybee Road, RR 1, Frankford, Ontario, K0K 2C0
Northern Wildflowers, Whitefish, Ontario, P0M 3E0
Not So Hollow Farm, 838369 4th Line East, Mulmur, Ontario, L9V 0J7
Ontario Flora, Various locations, Toronto, Ontario
Paradise Nursery and Garden Centre, 4481 Alma Street, Amherstburg, Ontario, N9V 2Y9
Prosperity Acres, 2666 Harmony Rd (Tyendinaga Twp), Corbyville, Ontario, K0K 1V0
Return of the Native, 1186 Flos Rd. 10 E. Elmvale, Ontario, L0L 1P0
Rockwood Forest Nurseries, 437 Mark Road, RR1, Cameron, Ontario, K0m 1G0
Smylies Independent Grocer, 293 Dundas St E, Trenton, Ontario
Strickland's Perennials, 5467 Middle Road, Bowmanville, Ontario, L1C 3K2
St. Williams Nursery and Ecology Centre, 885 Highway 24, St. Williams, Ontario, N0E 1P0
Toronto Botanical Garden Store, 777 Lawrence Ave E, Toronto, Ontario
The Wildflower Farm, 10195 Highway 12 West, Orillia, Ontario
Tuckey Home Hardware, 136 Wortley Road, London, Ontario, N6C 3P5
Vandermeer Nursery, 588 Lakeridge Road South, Ajax, Ontario, L1Z 1X3
Verbinnen's Nursery (Wholesale), 1504 Brock Road, R.R.4, Dundas, Ontario, L9H 5E4
Wildlife Gardening, Landscaping, Ecological Restoration and Native Plant Nursery, 815328 Oxford Road, RR#2, Princeton ON, N0J 1V0
William's Nurseries Ltd, 315 Road 12 RR#3, Leamington, Ontario, N8H 3V6