2022 ANNUAL ONTARIO INVASIVE PLANT CONFERENCE
The 14th Annual Ontario Invasive Plant Conference took place virtually on Thursday, January 13th, 2022.
Please visit our youtube channel to view the presentations.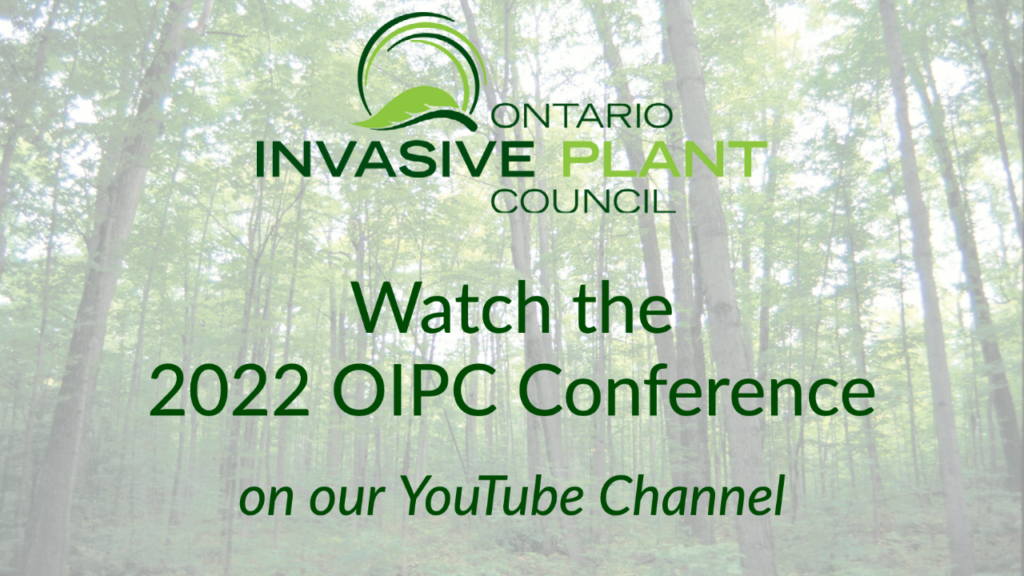 This unique event was offered in conjunction with our Annual Ontario Phragmites Working Group Meeting which occurred virtually on Tuesday, January 18th, 2022. Together, these two meetings resulted in a fantastic two-day event bringing together professionals and passionate citizens from across Ontario and beyond.
This year, the OIPC Conference theme was Community of Knowledge!
The Event
Earn CECs towards your Integrated Pest Management Accreditation
What is the Integrated Pest Management Accreditation Program?
The IPM Accreditation program is a program administered through the University of Guelph, Ridgetown Campus, which certifies Integrated Pest Management Agents. The certification process involves both an examination and obtaining continuing education credits (CECs). Certified IPM Agents and IPM certified applicators require a minimum of 6 CECs per year to maintain their certification within the IPM Accreditation program (IPMAP). We are pleased to announce that attendees of our OIPC and OPWG conferences can now earn up to 7.5 CECs!
How to earn CECs?
It's simple! To earn your credits, you must attend the conference day and achieve a passing grade of 70% or higher on the quiz. Each day will have its own quiz. Attending all of OIPC Day will earn you 4 credits and attending OPWG Day will earn you 3.5 credits. The links for these quizzes will be emailed to all registered attendees the day of, and shortly after the conference. If you do not receive these emails, please feel free to send us an email.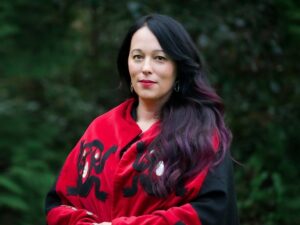 Dr. Jennifer Grenz is a researcher and Indigenous (Nlaka'pamux) Scholar, currently working in the Faculty of Land and Food Systems at the University of British Columbia. She has worked professionally in invasive species management for almost two decades and has recently completed a PhD, which focused on applying an Indigenous worldview to invasion biology and ecology. Dr. Grenz's work challenges us to think differently about our role in ecosystem management, something very important as we face a rapidly changing climate. Dr. Grenz is a science communicator, weed chaser, textile artist, farmer, and proud Indigenous woman in STEM.
Embracing Relational Science: What an Indigenous worldview offers complicated issues in Invasive Species Management
Jennifer B. Grenz
Sessional Lecturer, Faculty of Land and Food Systems, University of British Columbia
Principal, Greener This Side Invasive Plant Management
Indigenous perspectives on invasive species are largely unknown. Informed by Western science, the specific impacts of invasive species are often generalized and not well understood. Common approaches to ecological restoration are rooted is the native versus non-native dichotomy which equates native species with evolutionary fitness. Integration of Indigenous ecological knowledge in land management while increasingly popular, may not provide the full benefit that the application of the Indigenous world view can. The application of Indigenous research methodology to invasion biology reveals new insights into species assessment and ecological restoration. The acknowledgement of values and relationality plays a vital role in guiding land management decisions reflective of an Indigenous worldview, cultural values and allows us to redefine and reclaim practices that protect food security and sovereignty for generations to come.
Supported by the Social Sciences and Humanities Research Council of Canada
---
Phragmites at CAMI Assembly
Brooke Sampson; GM CAMI Assembly
Effects of invasive Phragmites australis removal on avian species diversity in Long Point coastal marshes
Marissa Zago; University of Waterloo
Point Pelee National Park Marsh Restoration
Andrew Laforet and Tarra Degazio; Point Pelee National Park, Parks Canada
Biological control of invasive knotweed: How post-release research can contribute to the success of a weed biological control agent
Dr. Ian Matthew Jones; University of Toronto, Institute of Forestry and Conservation
Knotweeds species are among the most serious invasive plants in Europe and North America. The knotweed psyllid, Aphalara itadori, has been approved as a biological control agent on both continents, and releases began in the UK in 2010, in Canada in 2014, and in the United States in 2019. Despite widespread releases, across a range of habitats and conditions, no field population of A. itadori has been confirmed to survive for multiple growth seasons. We describe research designed to identify the obstacles preventing the establishment of A. itadori, as well as efforts to overcome them. Additionally, we describe recent advancements that show great promise for finally providing successful biological control for invasive knotweeds.
Severn Sound Environmental Association – Tackling invasive species on a watershed scale
Tamara Brincat; Severn Sound Environmental Association
Protecting Nature Where you Live. The Power of Community Involvement
Beatriz Gomez-Canizo; Oakvillegreen Conservation Association
Aggressive Native and Near-Native Plants. Unintended consequences?
Stephen Smith; Urban Forest Associates Inc.
The Role of Science Communication and Journalism in Invasive Plant Management
Frederick Schueler; Fragile Inheritance Natural History
Our 2022 Sponsors