Garlic mustard, an uncommon invader?
If you're from southern Ontario, it's probably no surprise that we're in the middle of garlic mustard season! This invasive forest herb is one of the most widely distributed invasive plants across many parts of Ontario. Why is it such a problem? Garlic mustard out-competes many native species which serve as the building blocks for native plant and insect communities. Collectively these native species contribute to our biodiversity – a common measure of ecosystem health. If you're from southern Ontario, you may be surprised to learn that this pesky plant is not common everywhere in Ontario. Believe it or not, in Thunder Bay there is only one known patch of garlic mustard! One. Single. Patch.
For the past 2 years the EDRR Network volunteers of Thunder Bay have been diligently preventing this population from flowering, and in turn producing more seed. Early results show consistent decreases in the volume of garlic mustard that resprouts from the soil seedbank, as they march towards their ultimate goal – eradication!
Join us for a drop-in GM pull!
Join the EDRR Network on Tuesday June 27th 2017 at 6pm along McVicar Creek as they host a control event to remove the only known population of garlic mustard in Thunder Bay! More information can be found in the flyer below or on the EDRR Network website.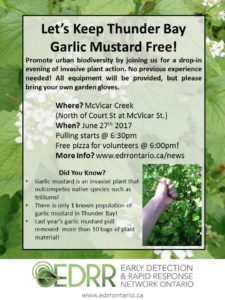 There are other ways to help fight invasive plants!
If you'd like to know how you can help control invasive plants near you, please visit our resource section for the most complete information on invasive plant control in Ontario. Best Management Practices and Technical Bulletins are available at www.ontarioinvasiveplants.ca/bmp.